In the first six months of 2020 Weatherpark assisted the City of Graz by offering its expertise in evaluating the existing urban climate analysis and establishing the requirements on content and application options for a new one.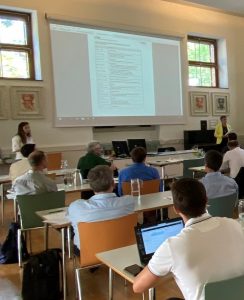 The second phase commenced with a workshop for the formation of a (provisional) consortium responsible for implementing the individual work packages of Graz's Climate Information System.
A workshop was attended by all partner institutions who had been invited to continue cooperation following the first phase and were prepared to take part in the implementation process. On this occasion the willingness and capacities of the partner institutions were clarified as well as the allocation of roles to them. Interfaces in the work process were likewise identified and defined.
This workshop was attended by a total of 8 partner institutions (AEE Intec, University of Natural Resources and Life Sciences, Vienna, Joanneum Research, University of Graz, 2 institutes of Graz University of Technology, ZAMG (Austrian centre for meteorology and geodynamics), consultant engineer Mudri), together with representatives from 4 departments of the City of Graz and one departmental representative from the province of Styria.
During the workshop it became clear that the activities planned by the City of Graz would go well beyond those of a standard urban climate analysis. The project will additionally include tasks such as evaluation of the measuring networks, the preparation of case studies, the examination of levels of human comfort and the creation of bioclimatological maps.
This has given rise to the name of "Climate Information System Graz" (KIS), with updating of the existing urban climate analysis set to form a key part of the Climate Information System. The term Climate Information System is intended to make a distinction from the current designation "urban climate analysis", which is already associated with certain expectations, and to ensure a better understanding and give a clear idea of the project's scope.
During the lead-up to planned approval of the Climate Information System Graz project, a unanimous decision of principle regarding realisation was taken by Graz's municipal council in September 2020.
Services of Weatherpark
Organisation and guidance of the workshop for set-up of the consortium
Continuous professional consultancy for in-house municipal Working Group KIS (formerly Working Group Urban Climate Analysis 2.0)
Client
City of Graz:
Environmental Agency
Land Surveying Agency
Urban Planning Agency
Municipal Building Directorate